Harry Carter Memorial Cup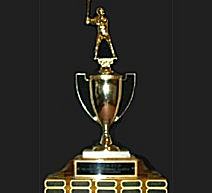 TriCounty teams compete each summer for the league's signature trophy, the Harry Carter Memorial Cup. The trophy is named after the late Harry Carter, who managed the Wenonah franchise to league titles in 1974, 1975 and 1983. Carter began managing amatuer teams back in 1940 and when he retired in 1987 from Wenonah, he was an amazing 84 years old.
Awarded to the winner of the league's playoff tournament beginning in 1989, the team's name and title year are engraved on the Carter Cup each year, preserving the rich history of the TriCounty Baseball League and its championship teams. The winning team also takes possession of the Cup during the offseason.
A complete listing of all the champions since the league's inception in 1953 is provided below.
2017
Garton's
results
2016
Camden
results
2015
Excel One
results
2014
Garton's
results
2013
Cherry Hill
results
2012
Camden
results
2011
Cherry Hill
results
2010
Bellmawr
results
2009
Bellmawr
results
2008
Bellmawr
results
2007
Lakeview Custom Coach
results
2006
Roughriders
2005
Kelly's Investment
2004
Kepple's Carpet
2003
- no champion -
2002
Hardenbergh
2001
Dr Connor
2000
Dr Connor
1999
Dr Connor
1998
Dr Connor
1997
Dr Connor
1996
Vineland
1995
Dr Connor
1994
Fuel-Ex
1993
Roughriders
1992
Hardenbergh
1991
Cherry Hill
1990
Washington Twp
1989
Robert Thomas Securities
1988
Miller All Stars
1987
Miller All Stars
1986
Miller All Stars
1985
Miller All Stars
1984
Stroh's Rebels
1983
Wenonah
1982
Delran
1981
Glendora Auto Parts
1980
Hardenbergh
1979
Cherry Hill
1978
Ron Ryba
1977
Maple Shade
1976
Hume Shell
1975
Wenonah
1974
Wenonah
1973
Brooklawn Legion
1972
Haddonfield
1971
Haddonfield
1970
Haddonfield
1969
Brooklawn Legion
1968
Brooklawn & Glassboro
1967
Glassboro
1966
Melini (Vineland)
1965
Vineland
1964
Pitman
1963
Cherry Hill
1962
Polish AC
1961
Dobbs (Westville)
1960
Dobbs (Westville)
1959
Blackwood
1958
Blackwood
1957
Waterford
1956
19th Gun
1955
Grenloch
1954
Grenloch
1953
Penns Grove